Some LNG Sellers Could Miss Out on $15B  | Rigzone
by  Matthew V. Veazey
|
Rigzone Staff
|
Thursday, November 21, 2019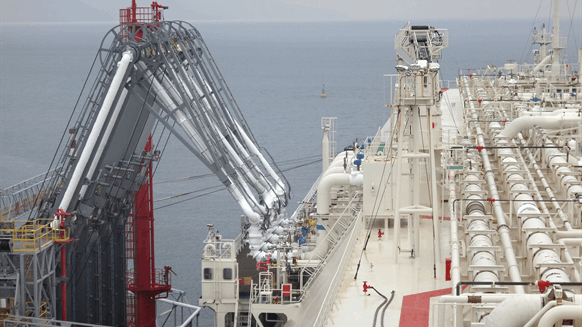 Nearly 50 percent of LNG contracts worldwide are indexed to the Japan Crude Cocktail price.
Sellers of liquefied natural gas (LNG) with contracts indexed to the Japan Crude Cocktail (JCC) benchmark could lose some US$15 billion in unearned revenues after a United Nations agency's stricter marine fuel regulation takes effect, according to Wood Mackenzie.
Starting Jan. 1, 2020, the International Maritime Organization (IMO) will require that marine fuel oil used to power ships outside certain emission control areas contain no more than 0.5 percent mass by mass (m/m) sulfur – compared to the current 3.5 percent m/m sulfur cap. The so-called IMO 2020 rule is expected to promote greater adoption of LNG as a shipping fuel, with ship owners increasingly converting their vessels to run on LNG rather than fuel oil.
"We forecast that this new market will drive a 23-percent annual growth in LNG demand for marine bunkering, reaching 22 million tons per annum (mmtpa) by 2030," Otavio Veras, research analyst with Wood Mackenzie, said in a written statement from the firm. "This represents about 11 percent of marine fuels globally by then, up from only 1.1 percent in 2019."
However, Wood Mackenzie contends that LNG suppliers with sales contracts based on JCC – the weighted average price of a mix of crude oil imported by Japan, primarily sour Dubai and Oman crudes – will miss out on benefiting from the projected bunkering demand growth. The consultancy expects JCC to be, on average, US$1.20 per barrel cheaper than the Brent oil price.
Wood Mackenzie pointed out the JCC-Brent disparity marks the reversal of a trend observed prior to the IMO 2020 announcement in Oct. 2016, when JCC was priced at a premium to Brent. The firm added that nearly 50 percent of LNG contracts worldwide are indexed to JCC.
"Besides value reduction due to equity ownership in LNG projects heavily contracted on JCC, portfolio players also lose revenue on contracts linked to depreciated JCC," noted Veras.
According to Wood Mackenzie, 70 percent of the most devalued LNG projects are in Australia. It stated that an aggregate US$7.6 billion in unearned revenues could be lost from assets in the country whose LNG volumes are contracted under JCC. The firm added the no LNG development will be more affected by the discounted JCC price than the massive Chevron-operated Gorgon Project in Western Australia.
"We expect LNG contract renegotiations to take into account the depreciation of JCC in relation to Brent, and sellers may try to push for higher JCC indexations slopes," commented Veras. "However, this may be difficult to achieve in today's oversupplied market. For new contracts, we see significantly less appetite for JCC-indexed contracts with Brent now much more favored for buyers who want oil-indexed LNG."
Wood Mackenzie also pointed out the JCC-Brent price differential represents a win for many LNG buyers, who get LNG at a lower cost.
"Japanese buyers stand to benefit the most, with up to US$8.3 billion worth of savings from JCC depreciation when the IMO 2020 regulation takes effect," the consultancy stated. "South Korea's national gas company KOGAS and Japan's JERA top the list as the biggest savers with a combined US$6.1 billion saved."
To contact the author, email mveazey@rigzone.com.

Generated by readers, the comments included herein do not reflect the views and opinions of Rigzone. All comments are subject to editorial review. Off-topic, inappropriate or insulting comments will be removed.
MORE FROM THIS AUTHOR


Matthew V. Veazey



Senior Editor | Rigzone