Tottenham boss Mourinho lands 8/10 in first win Son, Alli and Winks star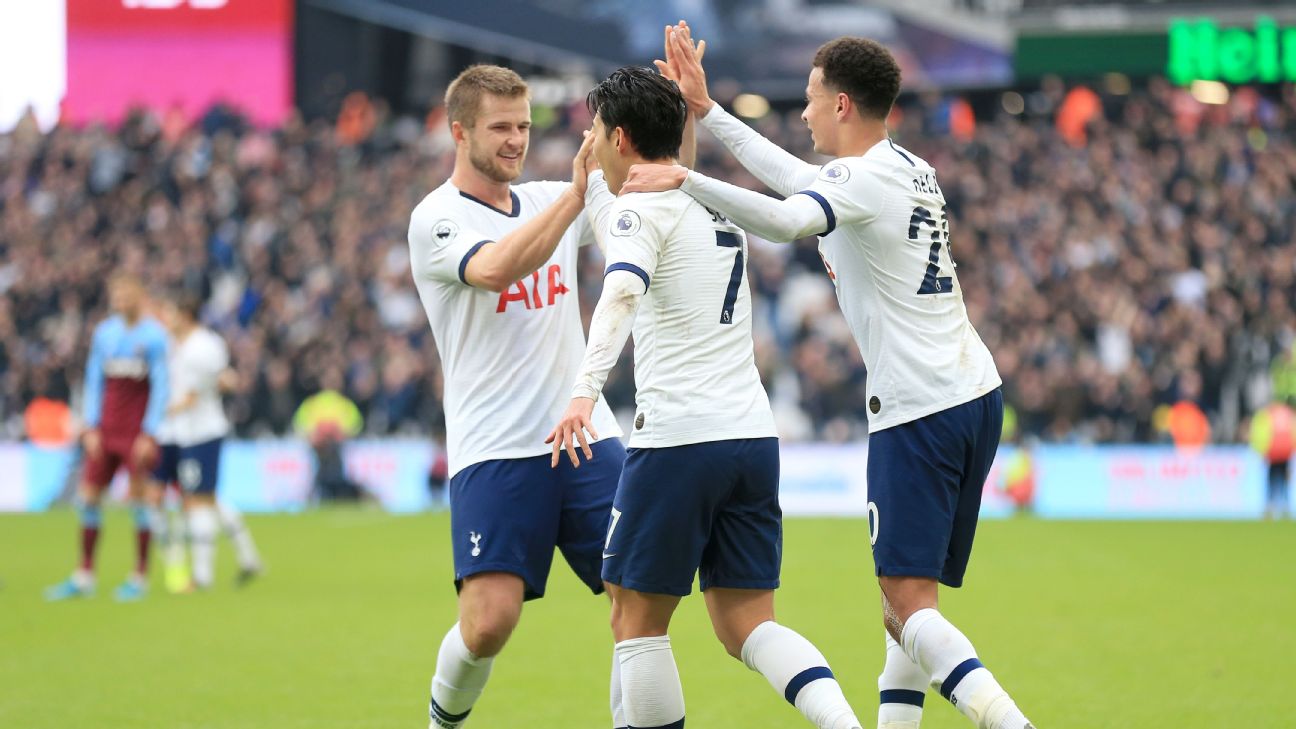 Tottenham Hotspur got off to a good start in their first Premier League game under Jose Mourinho as they won 3-2 against West Ham United at London Stadium.
Son Heung-Min opened the scoring in the 36th minute, then Lucas Moura chipped in two minutes before half-time. Harry Kane made it three to kick-start the second half, but West Ham gave Mourinho's men a scare as Michail Antonio and Angelo Ogbonna's late goals were not quite enough to drag the Hammers back into the game.
Positive
Spurs did the simple things well and put together some nice passages of play. When they took the lead they were calm in the manner that they built on it and they didn't let their foot off the gas. The impact of a new manager coming into the mix isn't lost on anyone and there was a renewed confidence in their play.
Negatives
There was a clear lack of confidence in the first 15-20 minutes, with the visitors hesitant to really take the game to West Ham early on. They also seemed to panic late in the game under the growing pressure from the Hammers and while they have the star power at the back, working on that team cohesion will be vital for Mourinho.
Manager Ratings
8 — There was always going to be an element of pressure to go alongside the excitement of Mourinho's first game in charge, but he handled it fairly well. Spurs didn't take too many chances and, tactically, the Portuguese boss played to their attacking strengths and showed character in the trust that he put in the back four.
Player ratings (1-10; 10 = best, players introduced after 70 minutes get no rating)
GK Paulo Gazzaniga, 7 — Didn't have much to do but looked steady whenever the hosts came forward. Produced long goal kicks that made for a nice change of pace and he couldn't do too much about West Ham's goals.
DF Serge Aurier, 7 — Looked much more confident and composed than he has been in recent months. Seemed to benefit from the momentum created by Mourinho's arrival and produced a lovely cross for the third goal.
DF Toby Alderweireld, 7 – Proved why he's still one of the first names on the teamsheet for Tottenham. Was commanding at the back and always on hand to clean up any loose balls or mistakes, while not being shy when going forward.
DF Davinson Sanchez, 6 — Still needs time to grow as a defender under Mourinho, as there are still some questions to be answered about his defensive capabilities. Got stuck in as and when was required, though, and showed a renewed determination on and off the ball.
DF Ben Davies, 7 — Lived up to his reputation as a bit of a bull in a china shop, darting around the pitch and constantly doing all he could to drive the ball up the pitch. Picked up a fairly needless yellow card and seemed to also sustain a knock.
MF Eric Dier, 6 — Helped as and when was required but certainly benefited from having Harry Winks alongside him. Did the simple things well enough and didn't stretch beyond his limitations.
MF Harry Winks, 8 — Enjoyed one of his best games yet in a Tottenham shirt. Looked confident in the middle and always seems to find the right pass, offering great protection at the back in the process.
FW Lucas Moura, 7 — The hot and cold nature of Moura has always been evident and it was again today. Missed a few key chances, but also managed to get on the end of a nice cross for the second goal.
AM Dele Alli, 8 — Executed some nice passes and had his best game in a long time. Provided a delightful throughball for Son's opener and didn't give up the fight for the second goal by keeping the ball in play in brilliantly with a flick to the South Korean.
FW Son Heung-Min, 9 — Was lively from the first whistle and scored with a really nice finish. He also provided the assist for the second in a Man of the Match performance.
ST Harry Kane, 7 — Overly eager at times, which could have caused more problems for Tottenham, but did what he does best by slotting in the third goal.
Substitutions
DF Danny Rose, N/A — Still isn't fully trusted within this system by Spurs fans, but kept the team ticking along well enough.
MF Moussa Sissoko, N/A — Always comes across as someone who introduces some chaos into the middle of the park, for better or worse.
AMF Christian Eriksen, N/A — Had a run out but needs a full 90 minutes to showcase what he can do as speculation continues over his future.