Champions League last-16 second leg preview: will Dortmund, Liverpool and Juventus come back to advance?
Of the eight last-16 matchups in the Champions League, just two are effectively settled after the first leg. (Sorry, Chelsea and Valencia.) Three of them feature heavy favorites (Man City, Barcelona, RB Leipzig) against long underdogs (Real Madrid, Napoli, Tottenham), but the odds haven't meant much over the past few years. Beyond those, there are three other ties — one involving the defending champions — that currently look like anyone-can-win coin flips. In other words, there's plenty left to play for!
So, with the return legs set to kick off on Tuesday, let's take a look back at each of the first-leg games and see what they can tell us about what's to come over the next two weeks.
Editor's note: scores in parentheses below are from the first legs, played in February. The winner on aggregate over the two legs advances; ties are broken by away goals.
Also, several Champions League games have been impacted by coronavirus fears: both Valencia vs. Atalanta on Tuesday and Paris Saint-Germain vs. Dortmund on Wednesday will be played behind closed doors. When decisions are made regarding attendance and/or logistics for other matches, we will update this page accordingly.
Jump to: Leipzig-Spurs | Valencia-Atalanta | PSG-Dortmund | Liverpool-Atletico | Man City-Real Madrid | Juventus-Lyon | Napoli-Barcelona | Chelsea-Bayern
---

RB LEIPZIG (1) vs. TOTTENHAM (0)
Second leg: 3/7, 4 p.m. ET
FiveThirtyEight odds of advancing: RB Leipzig 90%, Spurs 10%
This season marked Leipzig's first-ever appearance in the Champions League knockouts, while their hosts were last year's runners-up and have advanced beyond the group stages in each of the past three seasons. But a wider lens creates a skewed perception of the two clubs. Right now, Leipzig are one of the 10 best teams on the planet, Tottenham are barely one of the 10 best teams in their own country and the game played out pretty much exactly how that dynamic would suggest. In fact, Tottenham were fortunate to get out of the first-leg with a one-goal deficit.
Leipzig came to London and straight-up walloped Jose Mourinho & Co. for 90 minutes. They pressed effectively, controlled possession and dominated territory. They took 16 shots, tied for second-most among all teams across the eight first legs, and they created 2.25 expected goals. Given that Leipzig did all of that on the road, there's not much to suggest a Tottenham comeback beyond, you know, the inherent volatility of soccer's low-scoring nature. However, they did come to life at the end of the match, ultimately creating 1.09 expected goals thanks to some late attacking flurries from Steven Bergwijn and Lucas Moura.
Key stat: In the first leg, 22. % of Tottenham's final-third passes were crosses (second-most among all Round of 16 participants). Given how aggressively Leipzig presses, you'd expect Spurs to be able to attack more centrally when they do break through that high first line of defense. Perhaps a more nuanced approach could slightly shorten their long odds of advancing.
---
VALENCIA (1) vs. ATALANTA (4)
Second leg: 3/10, 3 p.m. ET
FiveThirtyEight odds: Atalanta 97%, Valencia 3%
Vindication! Atalanta have been a darling among the soccer analytics community for the past couple of seasons. Per the site FBRef, they were second in Serie A in xG differential last season, and this year they're nearly double the nearest competitor: plus-1.39 xG per match, compared to Juventus's second-best mark of plus-0.79.
Forget their budget or the names on the backs of their jerseys. Just based on the chances they've created and conceded over the past two seasons, Atalanta don't look like a Champions League darkhorse; no, they look like a legit title contender. And the first leg against Valencia proved that … right?
Not quite. Atalanta's efficiency in front of goal belied a rocky overall performance. After controlling the first half and taking a 2-0 lead into the break, they were out-shot 12-4 over the final 45 minutes. In fact, Valencia's 18 total shots were the most across all of the first legs, and they weren't just letting rip from range because of the big deficit, either. They completed 16 passes into the penalty, while only allowing eight.
The early goals skewed the way the rest of the game played out, but 4-1 was an incredibly unlikely outcome. Hans Hateboer picked up a brace, and he hasn't even scored in Serie A this season!
Key stat: This one is over for all intents and purposes, but Atalanta's inability to control the game in the second half — at home, no less — should give Valencia a tiny bit of hope. They created 2.92 xG in the first leg, fewer than only Manchester City and Bayern Munich.
---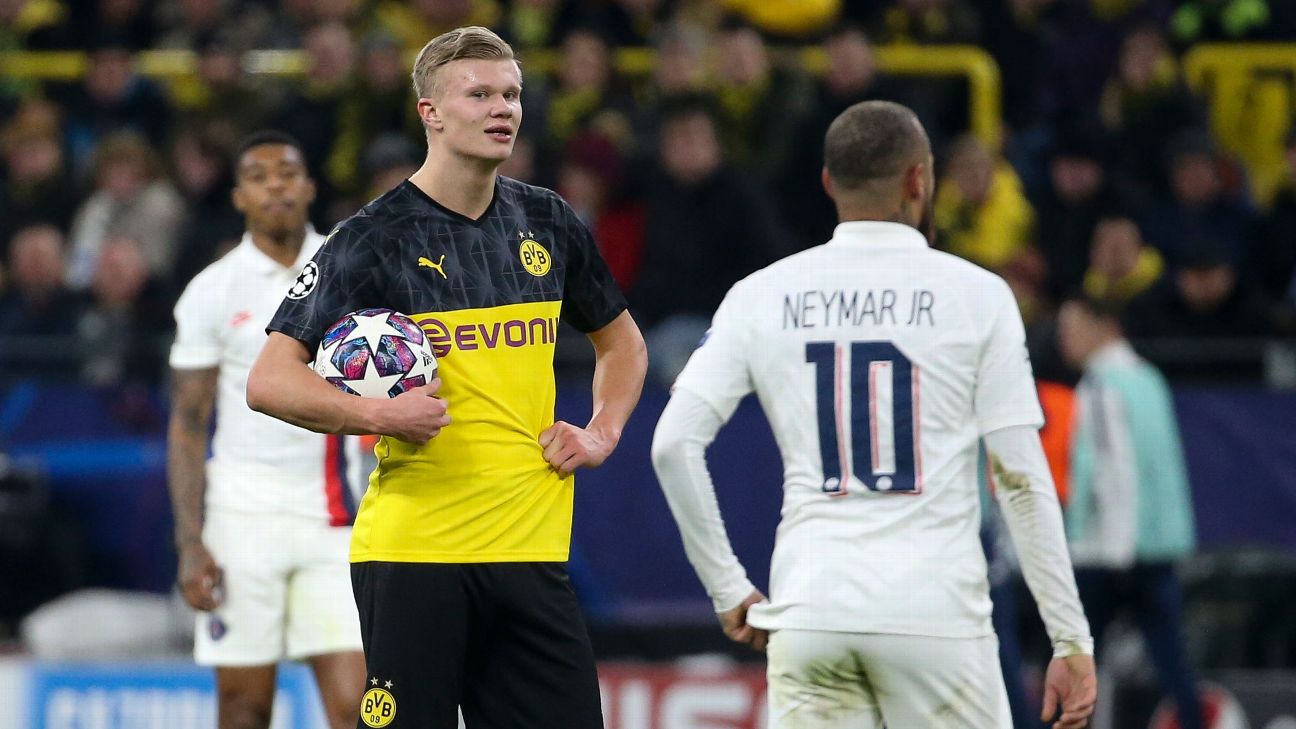 PSG (1) vs. DORTMUND (2)
Second leg: 3/11, 3 p.m. ET
FiveThirtyEight odds: Dortmund 53%, PSG 47%
This was the most even first leg of the eight games and while PSG do have Neymar and Kylian Mbappe, they unfortunately do not employ Erling Haaland.
Dortmund took two more shots, but PSG had more possession. Dortmund completed more passes into the penalty area, but PSG pressed more effectively. They each generated two shots on fast breaks — none of the other 14 teams had more than one — and the quality of chances they both created were about as close as it can get: 1.38 xG to 1.34, in favor of the hosts. The difference, of course, was that Haaland was able to harness the power of the naturally occuring electrostatic current in the Earth's atmosphere and bolt one into the upper corner during the second half.
While the loss was a blow to our claim that PSG have the look of a Champions League winner, they've got an away goal, and they'll be favored to win every game they play at home, no matter the opponent. But part of the point of the PSG experiment is that they'll always have the best attacker on the field and as a Norwegian teenager proved to them a couple weeks ago, that is no longer the case.
Key stat: Kylian Mbappe took nine touches in the Dortmund penalty area, third-most among all players behind Cristiano Ronaldo and Lionel Messi. However, he only took two shots. Can Dortmund walk such a fine line again in Paris?
---


LIVERPOOL (0) vs. ATLETICO MADRID (1)
Second leg: 3/11, 3 p.m. ET
FiveThirtyEight odds: Liverpool 51%, Atletico 49%
This was vintage Diego Simeone, huh? Atletico held Liverpool to their worst pre-Watford attacking performance of the season, per FBRef, as they generated just 0.5 xG despite having all of the vaunted front three (Sadio Mane, Roberto Firmino, Mohamed Salah) on the field at kickoff.
Jurgen Klopp's team only took eight total shots, and not a single one was on target. It was a masterful defensive performance from every angle: Atletico allowed the fewest total xG among all of the first legs and allowed the fewest xG per shot. Score on a set piece and hold your opponent at arm's length: in Europe, that's been Simeone's home recipe for nearly a decade now. But if you look at everything that happened before the shots, then Liverpool seem dominant — almost absurdly so.
They completed around 73% of the game's attacking-third passes and they completed 16 passes into the penalty area — both of which were second-best among all 16 teams. They allowed just 4.89 passes per defensive action (PPDA); no one else was below 8.41. And their average sequence (defined as an uninterrupted possession) began higher up the field (53.5 meters) than anyone else, too.
Key stat: Despite an incredible amount of pressure, Simeone's side did an incredible job to keep the dam from breaking. But that's gonna be tough to repeat. Per FiveThirtyEight's non-shot xG tallies, which "estimate of how many goals a team should have scored based on non-shooting actions they took around the opposing team's goal: passes, interceptions, take-ons and tackles," Liverpool more than doubled-up Atletico: 1.4 to 0.6
---

MAN CITY (2) vs. REAL MADRID (1)
Second leg: 3/187, 3 p.m. ET
FiveThirtyEight odds: Manchester City 90%, Real 10%
Real Madrid's success this season has been built upon their defense, which has allowed the fewest goals (17) in La Liga. Earlier in the campaign, Zinedine Zidane installed a second defense-oriented midfielder, Federico Valverde, alongside Casemiro. Pair them with two great centerbacks (Raphael Varane and Sergio Ramos) and a couple defensively capable fullbacks (Dani Carvajal and Ferland Mendy), and you're just not gonna give up many goals. That is, unless you're playing Manchester City!
For a team that still really lacks a defining modern European victory, Pep Guardiola's side came into the Santiago Bernabeu and eviscerated Madrid's greatest strength. Think of it as the inverse of Atletico's defensive display: City generated the most expected goals (3.07), the second-most shots (16) and the second-most xG per shot (0.192). Despite playing an unfamiliar, and theoretically-defensive, left-wing role, Gabriel Jesus got on the end of shots worth more xG than anyone else across (1.41) all of the first legs.
Key stat: Madrid now have to score at least two goals, and they're gonna have to do it without their captain, Sergio Ramos, who was red-carded in the first game, and without allowing much to the same attack that destroyed them a few weeks ago. It's hard to see it happening, but maybe this is one number for Zidane to focus on: Real completed 12 passes into City's penalty area and only allowed eight into theirs.
---
vs. JUVENTUS (0) vs. LYON (1)
Second leg: 2/26, 3 p.m. ET
FiveThirtyEight odds: Lyon 50%, Juventus 50%
Juventus didn't look like a true title contender before the first leg, and they looked like even less of one after it. Lyon, meanwhile, came into Round of 16 as one of the two or three weakest teams remaining. They're currently in fifth place in France, and the FiveThirtyEight Soccer Power Index rates them as the 34th-best team in the world: one spot behind Olympiacos and two spots ahead of Sheffield United. Despite that, they played a roughly even match against the seven-time defending Serie A Champs, just trailing slightly in xG (1.10 to 1.04) and total shots (14 to 12).
This season, Juve really feel like a team in transition: they've moved away from the defensive solidity of the Massimiliano Allegri era but they haven't fully integrated the field-tilting, systematic chance creation that made Napoli so fun to watch under Maurizio Sarri. Instead, they're a team that can hold lots of possession, but they take a ton of low-quality shots and struggle when they don't have the ball.
"I am having a lot of difficulty in getting across the idea of moving the ball quickly to this team," Sarri said after the loss. Against Lyon, Juventus had 63.5% of possession — less than only Barcelona and Liverpool — but their pressing rate (or PPDA) was middle of the pack (11.59). So, most of their attempts came against a packed-in, settled defense, and not a single one ended up on target.
Key stat: Lyon's attack has struggled all season, but Houssem Aouar, the club's latest midfield uber-prospect, gave them enough juice to get over the line in the first leg. Playing on the left wing, he created 0.61 expected assists, which was the most in the match and 10th-most among all players.
It seems unlikely that Lyon hold Juventus scoreless in Italy, so they'll probably need another individual performance like that to make it out of Turin alive.
---

NAPOLI (1) vs. BARCELONA (1)
Second leg: 3/18, 3 p.m. ET
FiveThirtyEight odds: Barcelona 87%, Napoli 13%
While Barcelona have doubled-down on the "possess the ball until the opponent gives up" strategy since hiring manager Quique Setien, this felt like a new extreme.
In the first leg, they completed 85.3% of the game's attacking-third passes; no one else in the last-16 was above 73.7. They were the only team to complete at least 90% of their passes. Their average sequence contained 7.3 passes — two more than PSG's second-most total of 5.3. And their average sequence lasted for an absurd 19.2 seconds — most of all the 16 teams by more than five seconds. And yet, somehow Barcelona were only able to generate eight shots, just one more than Napoli, despite the impossible-seeming possession advantage.
In a broad sense, it worked, as Barcelona created the highest quality opportunities (by xG per shot) across all the first legs, and they edged Napoli on overall xG, 1.62 to 0.75. The difference was the finishing, but given that Barcelona employ the greatest finisher in the world, they'll take that kind of performance every time.
Key stat: Messi completed eight dribbles (tied for most among all players), took 10 touches in the penalty area (second most), completed six passes into the penalty area (second most), and racked up 0.39 xG and 0.72 xA. He didn't score a goal or get an assist. It seems unlikely that'll happen again.
---
BAYERN MUNICH (3) vs. CHELSEA (0)
Second leg: 3/18, 3 p.m. ET
FiveThirtyEight odds: Bayern greater-than-99%, Chelsea less-than-1%
This was a complete blowout from every conceivable angle. Even though Robert Lewandowski is out injured for the return, I cannot make the case for a Chelsea comeback without invoking witchcraft, ancient magic, alien invasion or geo-political intervention.
Key stat: Despite being a Canadian teenager who is theoretically playing out of possession as a left fullback, Alphonso Davies completed six dribbles (tied for second-most among all players) and created 0.69 expected assists (fifth-most). He's special.