Liverpool, Man United and Real Madrid all part of the top 10 European Cup finals ever
The 2020 Champions League final would have been played Saturday had it not been for the coronavirus pandemic. So instead, let's look back at the top 10 finals from the history of European Cup/Champions League.
10. 1958: Real Madrid 3-2 Milan
If Real Madrid hadn't yet taken on an invincible air before their third European Cup final win (in the midst of winning five in a row), they certainly had after it. This game was notable for a frantic flurry of goals in the second half: Juan Alberto Schiaffino put AC Milan in front, Alfredo Di Stefano and Hector Rial scored for Real, but their lead lasted for three minutes before Ernesto Grillo took the game into extra time. It was left to the great Francisco Gento to settle things, scoring with a low shot into the corner.
There was a curious urban myth that a young Warren Beatty presented the trophy to Real, but the fresh-faced kid dishing out the medals was more likely Prince Alexander of Belgium. Which, as the final was in Brussels, makes more sense.
If we're honest about it, this was a poor match for about 89 minutes. Bayern took the lead after six minutes through Mario Basler and should have added to it. In the second half Mehmet Scholl chipped onto the post; Carsten Jancker hammered an overhead kick onto the bar. United were barely sentient beings shambling around the Camp Nou pitch, and it wasn't much of a contest.
Then in the closing stages they woke up. Teddy Sheringham equalised in the first minute of extra time, Ole Gunnar Solskjaer won it in the third, and Manchester United won the famous Treble in the most dramatic circumstances ever.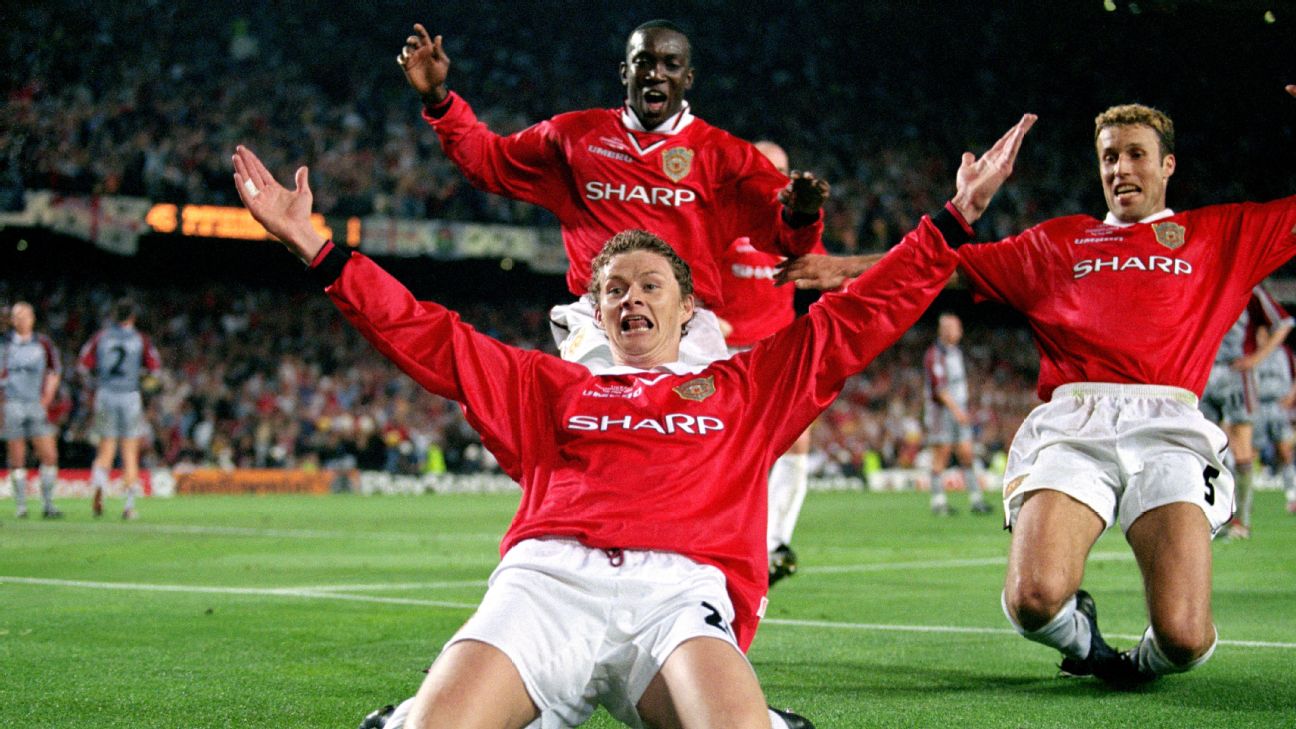 The start of nearly a decade of English dominance, this was the game when Liverpool truly established themselves as a force. "I think on that night we not so much became a European side but we played like a European side," Tommy Smith said. Terry McDermott gave Liverpool the lead, only for Allan Simonsen to equalise, but just after the break, Smith headed home and with eight minutes to go Phil Neal sealed it with a penalty.
7. 1968: Manchester United 4-1 Benfica
A decade on from the Munich air disaster, this was the culmination of the extraordinary work Sir Matt Busby did to rebuild his team. It was a fairly rough affair, with the Benfica players seemingly targeting star winger George Best, and things were pretty tense until Bobby Charlton scored after 53 minutes. But then Jaime Graca equalised and it was only the efforts of Alex Stepney in the United goal that got them to extra time. But just as momentum had swung in normal time, so it did again in the additional 30 minutes. Best and Brian Kidd scored twice in three minutes, before Charlton swept home another to seal it.
– ESPN+: Stream ESPN FC TV daily and 30 for 30: Soccer Stories
– Insider Notebook: United face Sancho battle, Pep slapped on head
6. 1962: Benfica 5-3 Real Madrid
Normal service seemed to have resumed when Real reached the final of the 1962 European Cup, having won the first five before being knocked out by Barcelona in 1961. But in many respects this represented a changing of the guard as some of the old Real greats like Di Stefano and Ferenc Puskas had gone past their peaks, whereas Benfica (with Eusebio pulling the strings) were coming to prominence. Puskas scored a first-half hat trick, but Benfica stormed back after the break, a quick Eusebio brace sealing victory, although it would be their most recent. Manager Bela Guttmann infamously declared that they would never win the trophy again after leaving the club following a pay dispute, and he was right: Benfica have played in eight European finals since and lost them all.
5. 2011: Barcelona 3-1 Manchester United
There are many aspects of what makes a great final, and the 2011 edition wasn't a great contest in terms of two teams fighting it out as equals. But this was a final to be remembered because it was an exhibition of glorious football, arguably the peak of the greatest club side of the past 25 years, as Barcelona took Manchester United apart with tiki-taka and goals from Pedro, Lionel Messi and David Villa.
"Nobody's given us a hiding like that," Alex Ferguson said afterward. "In my time as manager, it's the best team I've faced. I think everyone acknowledges that."
4. 2014: Real Madrid 4-1 Atletico Madrid (after extra time)
If there was ever a scoreline that didn't reflect a game as a whole, it's this one. Things had been pretty even for much of the game; Atletico had taken the lead in the 36th minute and held that lead until the 93rd. Then three minutes into added time, centre-back Sergio Ramos, as if playing the role of cartoon villain that he seems to revel in, equalised. Real then took over in extra time, goals from Gareth Bale, Marcelo and Cristiano Ronaldo making a close encounter look like a hammering.
3. 1994: Milan 4-0 Barcelona
It's hard to overstate how much Barcelona were the favourites ahead of the 1994 Champions League final. This was Johan Cruyff's "Dream Team" reaching something close to their peak, against Fabio Capello's Milan, who were without the injured Marco van Basten and Gianluigi Lentini, the suspended Franco Baresi and Alessandro Costacurta, plus the "three foreigners" rule meant Capello was forced to leave out French striker Jean-Pierre Papin and Denmark winger Brian Laudrup.
And yet the final was a demolition, the workmanlike Daniele Massaro bagging a couple of goals before half-time, Dejan Savicevic lobbed in an astonishing third and defender Marcel Desailly lashed in the fourth. It was a thrashing and an upset all in one.
The 127,621 attendance inside Hampden Park is still a record for a European final and will likely stay that way. Real Madrid were invincible in the early years of the European Cup and truly showed it here, destroying a very accomplished Eintracht Frankfurt side with some of the most extraordinary attacking play ever seen. The Germans took an early lead — "It was like Frankfurt had provoked us," Pepe Santamaria told the Guardian recently — but Di Stefano got three, Puskas scored four and Real lifted their fifth trophy in a row.
1. 2005: Liverpool 3-3 Milan (3-2 on penalties)
Debates will rage between Manchester United and Liverpool fans about who won the Champions League in more thrilling fashion, but in terms of overall spectacle and excitement for the neutral, there's no contest.
Milan were extraordinary in the first half and Liverpool could count themselves lucky to be only 3-0 down after Paolo Maldini scored in the first minute and Hernan Crespo picked up two more. But then came an astonishing eight minutes when Liverpool did the impossible.
After Dietmar Hamann came on at half-time, they drew level through Steven Gerrard, Vladimir Smicer and Xabi Alonso's penalty rebound, then set up another hour or so of broiling tension. Milan, the superior side in virtually every aspect, have only themselves to blame for not killing the game off entirely as Kaka missed a header and then Andriy Shevchenko saw his shot saved by Jerzy Dudek from 6 yards. The game went to penalties, but Dudek was the hero again as he stopped Shevchenko, which ultimately made Liverpool deserved winners.